Information about our lumberjacks candles:
 Lumberjacks candles are made out of pine and spruce
 Without bark (sanded). Less waste and bug free
 Dried (moisture 8-15%), ignites very easily
 Equipped with a handle for easy transportation
 Under the sticker there is a impregnated fuse, which makes it very simple to light it up
 Yhdeksän eri kokoa
 For indoor (only in fireplace) and outdoor use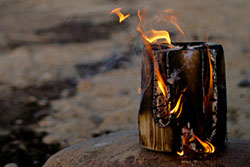 From the links above you can see the products we have made.
Naturally, if necessary, we will arrange transportation of the goods to your door for an extra cost.